Cow Families
Nile Valley Cow Families
Meat and milk in one package! Over All Volume, Depth of Rib and Length of Body is what Nile Valley cows are all about. We strive to produce super deep sided, big barreled versatile maternal machines. Our cows must work for a living. Nile Valley cow families are the factories that produce growthy calves from mother cows that milk!
Generations of selective breeding has produced several cow families in our Dual Purpose Milking Shorthorn herd.
WE BREED ONLY THE BEST TO OUR BEST
AND CULL THE REST : THUS TO BE SIMPLY THE BEST...
In our part of the country, our cows must perform on predominantly fescue pastures.
So the recent trend to Grass Fed cattle, our cow herd is born and raised on grass being Fescue Fed.
Totally Grass Based Genetics.
July 2009 summer picture of Nile Valley cows grazing
Mary Maid cow Family
(Mary Maid cow family) Nile Valley Mary Maid 48 THF (ID 1) pictured just fresh fall '09 with 3rd calf at age 4. ID #1 blends the famous Mary Kaye family beef Shorthorn from the Moore herd of IL and our (Maid cow Family). This cow family started with Gilmore LP Cherry Maid grandaughter of the famous "Cobbs Cherry Maid" by Lofty Prince . This Milking Shorthorn cow family was selected from the Monroe Gilmore herd disperal of NM in 1978. Yes a truly great cow family takes years to develop. More about the Maid cow family will be featured below.
bred heifer
Paternal Granddam
Ada cow Family
(Ada Cow Family) Nile Valley Ada 28-P (ID 54) Truly a supreme brood cow. Pictured at age twelve, Ada 28 has produce 12 natural born calves & at age thirteen bred back with an average calving ainterval of 364 days lifetime.
Sisters and momma below
Oldest cow family at Nile Valley doesn't have many heifers but produce the great ones.
This cow family came from Grandpa Hendrickson's grade herd. Which traces all the way back to Great-great Grandpa H.S. Balcom whom imported eight horned Durhams from England in the early 1900's. Which he called Thoro Bred Cattle. He had the cows for a few years then sold herd to Date Hendrickson (Nile Valley Farms and Mieth Bros (Green Mount Stock Farm) HS Balcom was Doyle's grt grd father on Mothers side and Date Hendrickson grd father on fathers side.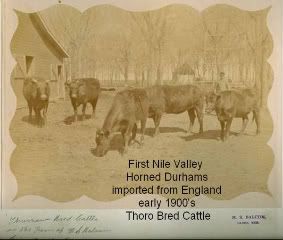 Original Nile Valley ThoroBreds
---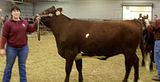 Ada 35-P ID 71 as Jr Champ
Ada 45 ID 73 to carry on Ada family
Ada 20
Ada 27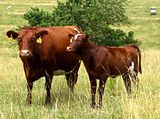 Ada 20 ID73 & daughter
Mamie cow Family
(Mamie cow Family) Nile Valley Mamie 60 (ID9) A Queen Bee - 8 calves, all born in March.
4 Daughters still in our herd & 2 Daughters sold to other Breeeders. Sold this Queen Bee to C. Honey Farms of TN 1/26/2009.
The Mamie Cow Family started in 1964 with purchase of Roan Mamie 2nd from Lloyd Strong at the NE State sale. Soon Mamie became the Cow Factory Power family that has heifers you keep. The Mamie's work with most any bull because of excellence in maternal repeatability.
Mamie 61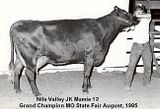 Mamie 12(1985)
Mamie 66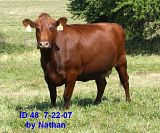 Mamie 74
Mamie 95
Maid cow Family
(Maid cow Family) Nile Valley Maid 30 (ID8) Another daughter of Ridge View Alexander has been an awesome cow for us. To date ID8 has produced eight calves in March and still going strong. Average BW of 83# and WW of 548# makes her calves keepers and wishing for more. She still looks like a five year old. Visitors always seem to take notice to the Maid cow family.
The Maid cow family started with Gilmore LP Cherry Maid (grandaughter of the famous "Cobbs Cherry Maid") by Lofty Prince . Dad had dreamed of having a key piece of this great high production Milking Shorthorn cow family. When the Monroe Gilmore herd disperal sale catalog came in 1978 featuring her family, he drove all night to New Mexico. At daylight a few miles away just about turned around to come home, but came over horizon and seen the beautiful herd grazing on irrigated pasture the Maid cow family was selected for Nile Valley.
---
Maid 38 ID6
Maid 38 as Dual Show Champion
Maid 40
Maid 51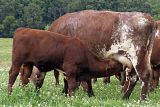 Maid 44 ID36 & bull calf Pyramid
Oly cow Family
(Oly cow Family) Nile Valley Oly 13 ID64 "Matriarch" of the Oly cow family.
This awesome cow has a rich history of sires. By former herd sire "GB" Gold Mine Brad 564 by Pinehurst Brad 7th by Clayside Prince Bicenten. Oly 13 produced five daughters most still in the herd. The Oly cow family started in the mid-80's from a grade-up cow; Nile Valley Oly KP 2nd by Korncrest Pacesetter.
Oly 17
Oly 24
Oly 28
Oly 24
Oly 44 w/ Doyle
Louise cow Family
(Louise cow Family) Nile Valley Louise 13-P ID59 Very hardworking young cow with a great future. ID 59 is sired by Nile Valley Patrick from our old Patsy Family. This cow family started from Lilydale Patsy Kerosene from the great Lilydale herd's disperal of Springfield, MO in 1970. The Patsy's are gone now but blending the Louise and Patsy cow family produced a winner. We should have kept that yearling bull instead sold to a commerical herd whom owner states "Patrick daughters are the best of any breed"
Louise 13 was 2nd place Junior Yearling to our own NV Ada 35-P at 2006 Dual Show and went on to be Reserve Champion. The Louise cow family came from Dad's purchase of sale day fresh Lady Lou 22 at national sale in 1980. She combined great sires Korncrest Pacesetter and Sunny View Princess Promise from the Vaske herd of IA. Louise 13 dam and grand-dam pictured below are still in the herd.
Louise 12
Louise 8
Lady cow Family
(Lady Cow Family) Nile Valley Lady 32-THF-P (ID2) This young cow continues the Lady cow family tradition. Pictured fall '09 fresh with 3rd calf as a four year old.
Already as a first calf heifer, the dam of our herd sire King of Hearts.
This outstanding Lady has set a high benchmark for her offspring to follow. Her dam ID#99 Lady 21 below left our herd after producing eleven calves all born in Sept and August to raise a couple more for another proud breeder.
Dam
Heifer
Grandma
-
ID2 Dam and Granddam were super brood cows at Nile Valley.
The Lady cow family comes from Crawley family of AR with the purchase of Valley View Bonnie Lady 2 at the national sale in MO in 1980.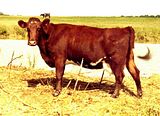 Lady (1982)
Rose cow Family
(Rose cow Family) Nile Valley M Rose 23 proved herself in the Milk barn as well as the pasture. Our top milk cow and then raised the top gaining heifer ( Nile Valley White Rose) full sister to former Senior Herd sire Rose Bouquet.
The Rose family started from Dad purchasing Page's Imperial Rose 3rd and her three daughters from Jim Box of Sand Springs, OK in 1964. She then calved with another heifer calf. To this day we have yet to have four Rose daughters at the same time, Rose cows have bulls here. But a Rose is always a rose. We have a couple sweet Rose heifers this year to carry on the family tradition.
Nile Valley Rose Bouquet whom has sired Champions in the show ring, weaning weights and carcass data scores.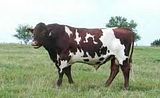 Rose Bouquet
Imp Rose 3rd(1964)
four daughters of Imp Rose 3rd(1967)
DH's Rose (1967)
White Rose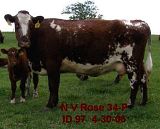 Rose 34 ID97
Optim cow Family
(Optim cow Family) Nile Valley Optimil 77-P (ID 29) More than a Queen Bee - An awesome cow and a marvel to look at in the pasture. Dam of herd sire Alexander The Great, other sons in TX, TN and AR.
For seven years in a row Optimil 77 ID29 calves weaned the heaviest of the herd. Her sister Optimil 86-P ID44 (by RV Alexander) as well is nearly her equal. Optim cow family is our most vast. Optim's have created a superior sisterhood that just keeps growing. Several customers have progeny of Optim cow family.
The Optim cow family started by accident in 1973. A registered Holstein "Optimil" (named from a miracle scour saving product Dad came home with from A.I. school at Carnation Albers in the 60's) and our herd sire at the time Gold Mine Timonium by Flora's Prince crossed paths. The resulting calf affectionly called "Opps" was a wonder by nearly 4000# of milk over dam. So by no accident the herd of Black & White cows became only Milking Shorthorns.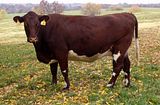 Optim 86
Alex the Great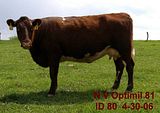 Optim 81
Optim 96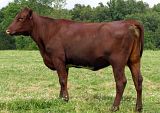 Optim 126
Murial cow Family
Nile Valley Murial 5 (ID89) Murial cow family ID 89 produced seven calves here and was a lead cow. She was a daughter of Double H Barb's Duke from Harley Heading's herd of KS.
Duke was selected at the first Dual Show and Sale in KS due to his power and strength to be used on the milk cows when Doyle wanted to get out of the milk barn. Mom and Dad wanted to slow down; but most whom know them don't think so. The cow-calf herd has kept them plenty busy. But they do take time to "stop and smell the roses "from time to time.
The Murial cow family started with Wil-Lou CR Murial, a Class Reunion cow from the Maraks of Meeker, OK at the national sale at Branson in 1990. Murial cow family is but a few, but very proud.
Murial 6
Murial 9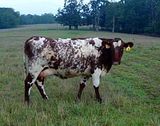 1st calver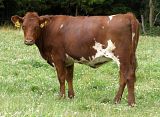 Murial 14
Abbie cow Family
(Abbie cow Family) Nile Valley Abbie 6 (ID 28) Abbie 6 is another powerful daughter by Ridge View Alexander. She just had her ninth calf this fall and still going strong. A very protective mother whom who don't fool around with but raises the best calves. The Abbie cow family is gone now, but not forgotten.
The Abbie family started at Branson, the same national sale in 1990 ... Valley View Abby 3rd by VV Pacer whom combined the Crawley herd's Jose Lucy and Jewel Joy families.
The Abbie family is growing as ID 28's sister, daughter and grand-daughter are pictured below.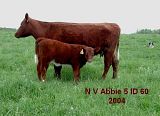 Abbie 5
Abbie 9
Abbie 11
We recently found an old photo of Sue and John leading Nile Valley Ada 4 & NV Optim 6 getting ready for the fair in 1987.
This was Sue's first time at the halter as it shows on her face. She must have did an awesome job; as NV Ada 4 was the MO State Fair Grand Champion that year.
Fast forward to Summer of 2015, we just double registered with both ASA & AMSS, Nile Valley Ada 78 & Nile Valley Optim 172.
We are proud to express our gratitude to be their caretakers & stewards.
Over 250 natural born females that have graced the pastures of Nile Valley can be traced these two cows: Truly Great Matriarch's. The Ada & Optim cow families are rich in tradition & genuinely represent our motto.
WE BREED ONLY THE BEST TO OUR BEST
AND CULL THE REST : THUS TO BE SIMPLY THE BEST...